Join us for our weekly advertised specials as well as many in-store deals! Our friendly staff will help you select the meats you are needing.
From traditional salamis, hams, beefs, pastramis to lean cut turkeys, chickens as well as kids favourite bung Bologna we have it all. Not sure if you will like it? Ask for a sample! Try before you buy. After all we want you to go home happy!
We carry local favourites from Tenderloin Meats, Winnipeg Old Country to Grimm's gluten free meats. And we will slice it your way – thick or shaved.
In a rush? Give us a call and pre-order your meat so it's ready when you get here. Customer satisfaction is what we are all about!
Sandwich Counter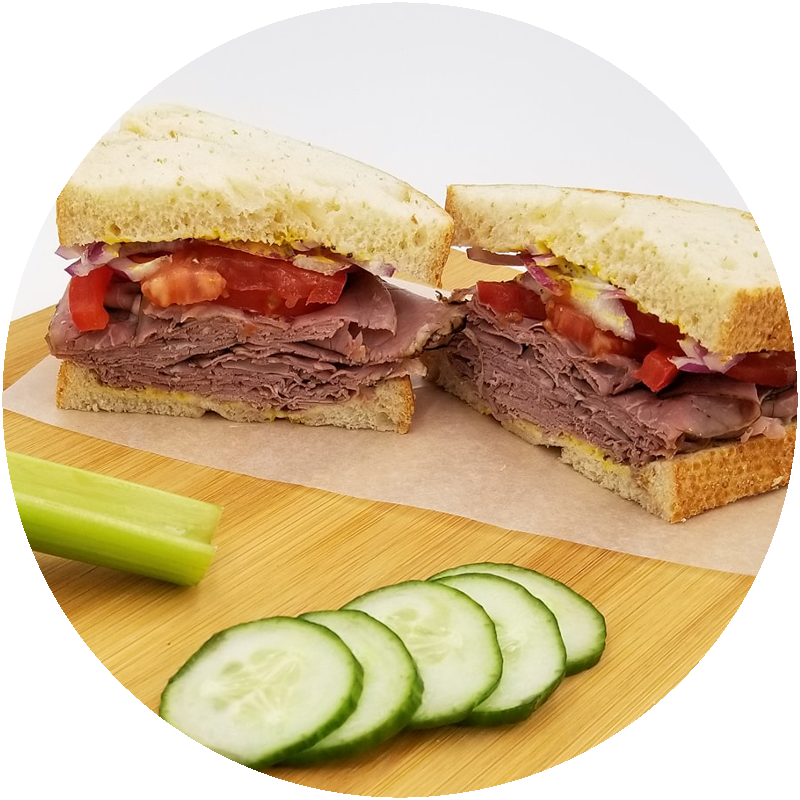 One of our most popular features is our fresh-made sandwiches. Just like old-school delis! Have your sandwich made for you with freshly sliced deli meats and the freshest of toppings.
You choose your bread, bun, bagel or croissant and your favourite sauce as we slice your favourite meat. And with our Loyal Luncher Card, each sandwich you purchase earns you way to free lunch add-ons. Drinks, chips, yogurt, salads, soups or Harvest's Own in-store made chilli completes any meal! Your reward at the 15th stamp is a sandwich on us!
Salads include Potato with egg or in-store made favourites like Greek Pasta, Creamy Coleslaw or Broccoli Salad with bacon. We also have in-store made Egg Salad or a Tossed Salad if you please!