It's Deli Deal Tuesday!
In-Store,
Every Tuesday
25% Off!
Current Specials

Cello Bologna!: Only $0.80/100gr!
(Expires Tuesday April 7, 2020)
•
View & Print Coupon »
Tea Biscuits!: Only $4.50 a package of 6!
(Expires Tuesday April 7, 2020)
•
View & Print Coupon »

White & W/W 8" Sub Buns!: Only $2.50 a pack!
(Expires Tuesday April 7, 2020)
•
View & Print Coupon »
View All Specials
Curbside Contact Free Pickup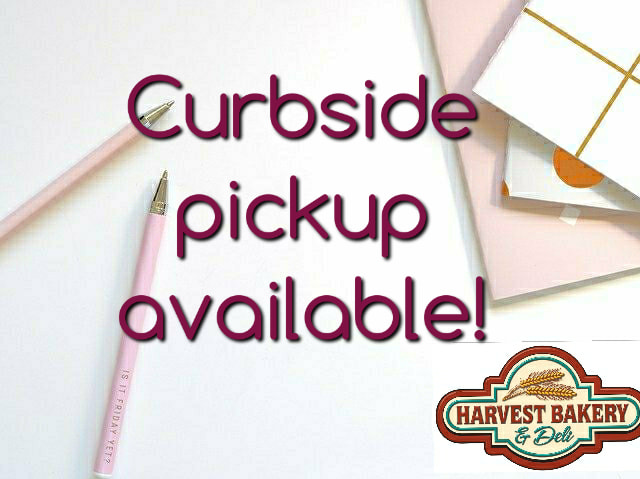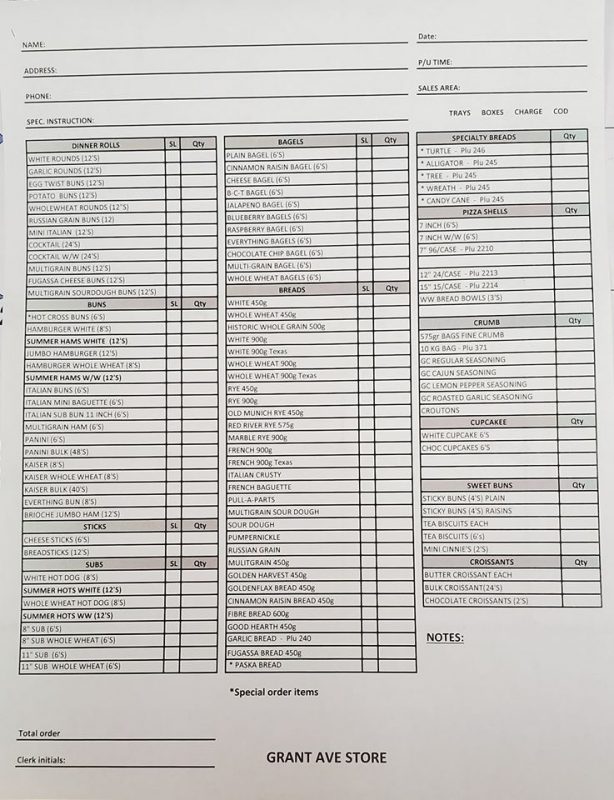 Starting April 7th on all Prepaid In-store or Curbside (including Contactless) pickups over $15 will receive 10% off!
Please call the retail store for details! 204-489-1086
Please allow minimum 1 hour to process orders.
Curbside pick up available from 10am to 4pm.
You can order baked products as seen on the order form below as well as grocery items like
– Spenst Bros Premium Meats thin crust pizza's (Pep & Mushroom, Pep & Bacon, Ham & Pineapple and Double pep)
– Assorted deli items from Grimm's Fine Foods including packaged smokies, deli meats, Savory Thins crackers, The Keg Horseradish, Flour Tortilla's
– Aunt Kathy's packaged Perogies and fruit pies,
– Bothwell Cheese (limited varieties including Squeakers and Snackers),
– Dainty slices (matrimonial slice, fudge brownie, raspberry apple slice, buttertart slice, nanaimo bars, lemonlicious slice and lemon macaroon slice),
– Treats like Sticky Bun's 4's, Apple Jacks, turnovers, cream horns, muffins and pizza bagels,
– Loaf cakes (lemon, Orange, Cinnamon Toffee and Apple Toffee,
– Cakes (black forest, oreo, skor, keylime, chocolate truffle, special occasion and cupcakes),
– Cookies (imperial, chocolate chip, monster, keylime, oatmeal raisin, oatmeal chocolate chip, cowboy, shortbread, double chocolate and coconut pecan)
– Tarts (almond and butter tarts) – Milk (Parmalat) Lactancia
– Smak Dab Mustards, – Danny's Whole Hog BBQ and Smokehouse BBQ sauces,
– The John Russell Honey Company assorted Honeys,
– Greaves Jams & Marmalades Ltd assorted jams and jelly,
– GORP Clean Energy Bars & Mixes
– Wildman Ricing soup mixes – Nature's Farm pasta and free run eggs
– Frozen pasta like cheese tortellini, Gnoochi and ravioli
– Classico assorted pasta sauces,
– Winnipeg Old Country wieners and garlic coils.
– Frozen Pizza dough (white and whole wheat)
Thank you Winnipeg!
"Baked Fresh Tastes Better!"
In 1981, Glenn Wilde purchased an existing Bun Master franchise – #91 out of 112 stores. By 1984, he'd made it to #1, and in 2001 he dropped the franchise to became Harvest Bakery & Deli – still family-owned and operated today by Glenn, son-in-law Andy Kostynuik, and son Brent Wilde.
Harvest Bakery & Deli supplies quality baked goods not only in the Retail Store, but also through our Commercial Sales Department to restaurants and other retail establishments throughout Winnipeg and Western Canada.
The bakery has expanded to add catering, photo cakes, social packages, made to order sandwiches, soup, salads and promote Made in Manitoba products to continue to support local business as they have supported us.
Thank You, Winnipeg! Harvest Bakery & Deli has been faithfully serving Winnipeg with beloved baked goods and popular deli fare for over 35 years and counting.
From Our Blog